Early in July,  Tullahoma TN city alderman Rupa Blackwell held a meeting to form a "diversity" council. The first meeting was attended by many city residents, which all were asked what they would like to see included in this council.  While the conversation brought up important, real issues, one only has to look at the paper board with the issues brought up by  Rupa Blackwell  who is spearheading this project to see it's more than diversity.  Bullying, hate speech, gender bias, access to minority businesses and more. No, this isn't about diversity.   This is about the bigger agenda being driven by leftist liberals: erasing history, tearing down statues, embracing socialism, supporting a Marxist organization called Black Lives Matter, censoring speech they find offensive,   and claiming all whites are racist and supremacists.
And as if right on cue following the rest of the liberal cities looking to erase American history, Other ideas mentioned included looking into renaming some streets or facilities that were named for Confederate soldiers.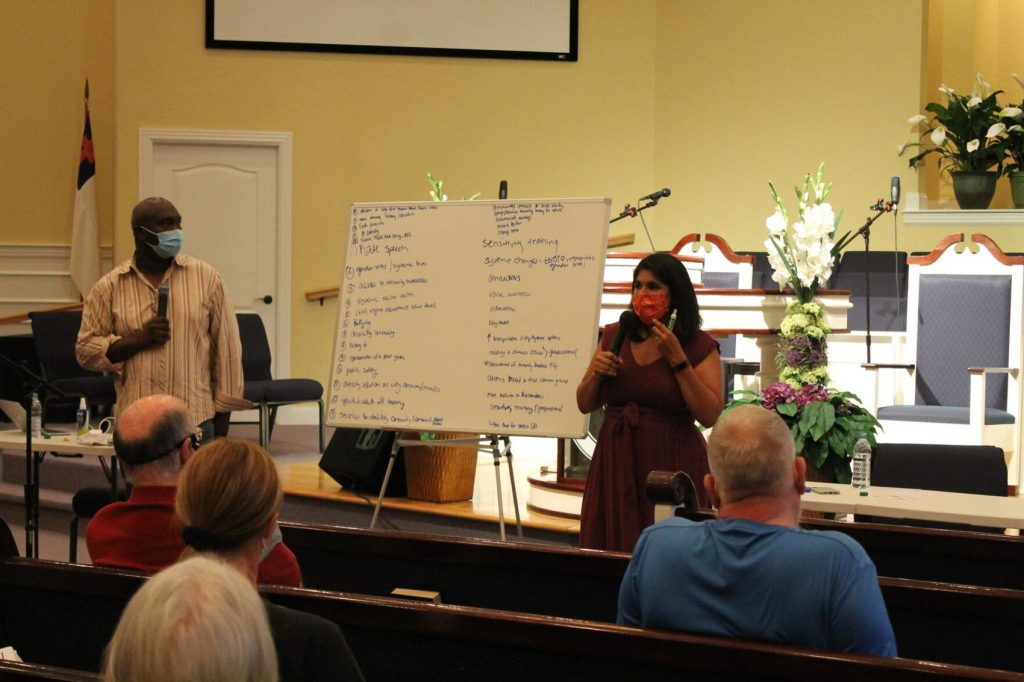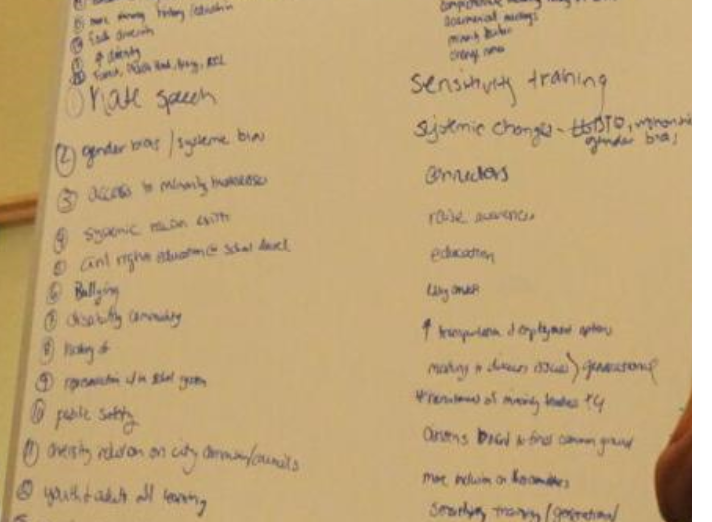 Folks, again, this isn't about diversity. Diversity is a word used when certain members of various populations want to change their surroundings to fit their beliefs and lifestyles. This is about the current political climate throughout America, which is anti-everything that America stands for.
According to the Tullahoma News, Jodi McGregor said she had lived in her own "privileged bubble" her entire life and wanted to take steps to better understand the intricacies of the town she's called home for the last four years. She shared how shocked she was when a friend mentioned a local park that was known to be a hot spot for drug deals. "Drug selling in parks doesn't happen in my part of town," she said, adding that it helped illustrate how much she still did not understand about others in the community.
Apparently now when you don't have crime in your neighborhood, it is because you are privileged.
So what could be expected if a diversity council were actually implemented?
According to the National Diversity Council, which has chapters all over the U.S, its founder Dennis Kennedy summed it up in his first statement.
"Greetings. Over the course of 2019, we welcomed President Barack Obama as the keynote speaker for our National Diversity and Leadership Conference; unveiled our PRIDE Worldwide celebration in Mexico City; kicked off Legal Diversity Week featuring former U.S. Attorney General Eric Holder and celebrated the 2019 Dubai Women in Leadership Symposium."
Rupa Blackwell, the city alderman who launched this idea, was endorsed by the Women for Tennessee's Future, a very liberal organization whose founding member was the disgraced, former mayor of Nashville Megan Barry, among others. According to the donor website "Open Secrets", the Women for Tennessee's Future is listed as a "liberal" organization.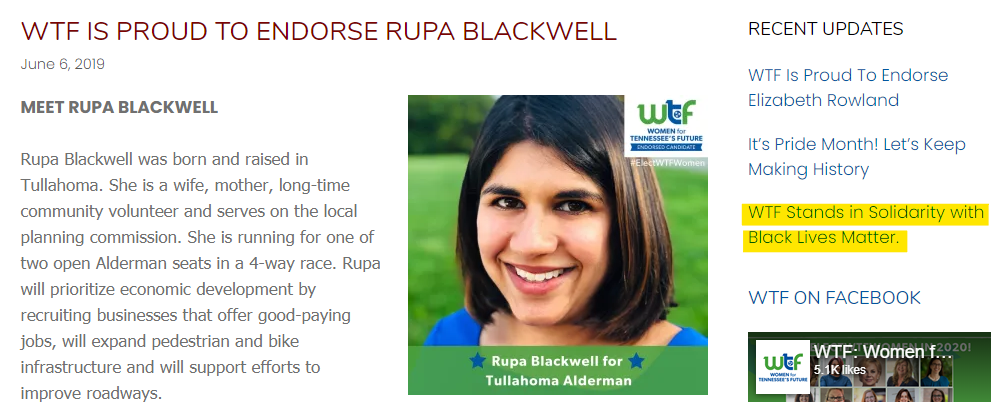 It is important to understand who endorsed Ms. Blackwell, as it shows the ideology she supports and is eager to implement. One dangerous endorsement by the Women for Tennessee's Future was Nigerian Zulfat Suara, who was elected to the Nashville Metro Council. Ms. Suara has many connections to Muslim Brotherhood organizations, and on her social media she posted pictures of her with Rashida Tlaib, and declared she is honored and inspired by Tlaib and Ilhan Omar, two radical Islamists who are very vocal about changing America.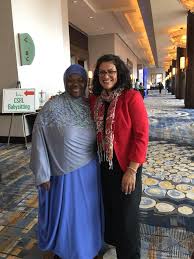 Accepting an endorsement from an organization who outwardly claims to support Black Lives Matter should be a red flag. In this video,one of its co-founders, Patrisse Cullors admits she and another co founder are trained Markists.
Rupa Blackwell campaign statement:
What Motivates Me
Personally, I want what every parent wants: a good school system, great amenities, and good jobs and industry. While this might sound trite to some, to me it is a tangible list of goals. I want to expand our pedestrian and bike infrastructure so that our children can easily and safely get to our fantastic schools. I want good roads that allow for everyone in the community to access the many parks, our greenway, and our robust art and athletic scene. And of course, business recruitment that makes sense for our community: those that offer good pay, benefits and a pathway into management. My reason for wanting these things is simple: I want my children to come back here to raise their families one day. Just as I did.
Funny, Ms. Blackwell forgot to mention the far left agenda she is supported by, and now wants to implement.
Is Tullahoma TN ready for this agenda?