But you'll need the help of your mayor and your city council and/or commission.
President Trump's Executive Order is giving power back to Tennessee citizens to decide whether they want federal refugee contractors to "transform" their communities with imported refugees.
Here are the rules of this game:
both the Governor and the "locality" for refugee placement, have to say "yes" we want refugees. This means they also agree to pay any and all short and long-term costs imposed by the federal program.
however, if either the Governor or the "locality" say no thanks, then supposedly, newly arriving refugees from overseas won't be placed in that "locality."
however, the Governor may consent to resettling refugees in only certain consenting localities within the state. This option is a total fiction and is as good as agreeing to put almost ALL cities and counties in Tennessee up for grabs for resettlement – even if they've never been an initial resettlement site.
FEDERAL RESETTLEMENT CONTRACTORS ARE ALLOWED TO PLACE REFUGEES ANYWHERE FROM 50 TO 100 MILES FROM THE REFUGEE CONTRACTOR'S OFFICE.
This is just one of the many dirty little secrets that the federal contractors keep to themselves.
And it's been going on in Tennessee for years. Here's the proof – the State Department's reports show that over the years refugees have been resettled in Clarksville, LaVergne, Smyrna, Murfreesboro, Mt. Juliet, Franklin, Spring Hill, Shelbyville, Gallatin, Johnson City, just to name a few.
A few years ago, Catholic Charities of TN employee and federal contractor Holly Johnson who became the state refugee coordinator after the State of Tennessee withdrew from the voluntary refugee program, insisted during testimony to a legislative committee, that refugees were never directly resettled in Bedford County.
Well oops!!! A report subsequently issued by TIRRC about the victimization of Muslims in Tennessee, disclosed that in fact, at least 13 refugees had been directly resettled in Bedford County during the time period Johnson was asked about.
And just in case anyone (ie, Governor Lee) thinks you can pick and choose which refugees you get like maybe all Middle Eastern Christians, Refugee Resettlement Watch and Voice of America clear this up – no you can't:
Again, by agreeing to 'welcome' refugees, your governor is saying your state will take any number from anywhere in the world!
Despite the consent requirement, state and local governments will not be able to choose which refugees it wants to accept, or to exclude certain groups.
Even the rules say you can't pick and choose.
And just in case you're thinking that the refugee resettlement industry has anything to do with religious prescriptions about welcoming the stranger – think again – it is first and foremost about money and cheap labor.
It wasn't that long ago that Catholic Charities' Holly Johnson, state refugee coordinator and federal contractor, wouldn't even help the newly arrived refugees that had literally been dumped in Rutherford County by another refugee contractor who got their money, closed their office and left the refugees with nothing.
The State Department guidance says local consent or non-consent for bringing in refugees, has to be in writing from the "chief executive officer of the local government.
Open border leftist groups and the federal refugee contractors have been working at this for weeks. Some say December 25 is the deadline, others say January 21 and others suggest that the deadline can extend to June 1, 2020 when the new grant money comes into play.
But since the left has made this a referendum on Trump's immigration policies, the sooner you get your local government's support for Trump out there, the better.
Hopefully, Governor Lee will get the message about what voters in Tennessee want – the same voters who put him into office.
Knoxville's city council passed a unanimous resolution to keep refugees coming and directed their leftist mayor to put the city's consent in writing. There should be little doubt that Nashville, Memphis and Chattanooga's city councils and mayors will do the same in the coming weeks.
And it's still critical to contact the Governor's office and remind him that the federal government has admitted to transferring the costs of the refugee program to the states – the very reason Tennessee has a lawsuit challenging the program. If the Governor consents to refugee resettlement even for just the four counties where the contractor offices are located, the state's lawsuit goes away and he puts almost every single town, city and county in the state up for grabs.
So what exactly Governor Lee's office mean when they said that "[w]e will continue working with the federal government to determine the best outcome for Tennessee." And who is he listening to??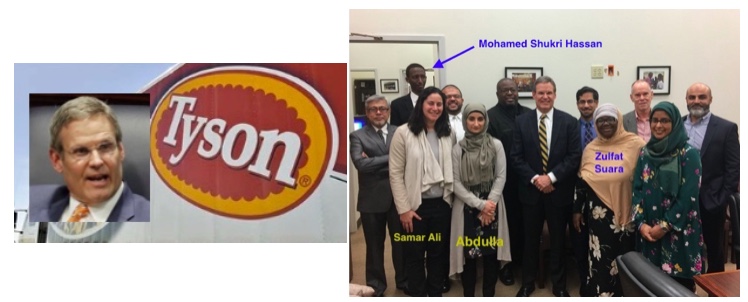 What about the voters who put him into office????