The newly formed Community Oversight Board in Nashville Tennessee should be re-named the Community Overreach Board as they raised eyebrows this week requesting police documents dating back to 2001. As an entity whose purpose is to oversee complaints about police misconduct, they already have overstepped their bounds. Another demand by the boards Executive Director William Carlos Weeden is to be placed on the Department of Emergency Communications roster, which allows him or another board member to immediately be notified of an incident of an officer involved shooting, or other serious encounter.
According to the Nashville Metro Government website page that defines the function of this board, it states:
The Board shall have the power to investigate allegations that MNPD officers have committed misconduct against members of the public, as well as issue policy advisory and resolution reports assessing allegations of misconduct by MNPD, recommendations to agencies involved in public safety and the administration of justice, and have the option of establishing a monitoring program that provides an ongoing review or audit of the complaint process administered by the MNPD Office of Professional Accountability ("OPA") or equivalent internal affairs program in MNPD.
Investigating allegations of misconduct by a police officer is quite different than being involved in the process of investigating the crimes where that misconduct may have stemmed from. Being privy to evidence, witnesses and details of investigations by anyone other than law enforcement, will undoubtedly lead to cases being compromised and perhaps even dismissed. Civilians have no place on crime scene locations or being involved in pending investigations.
The legitimacy of this board is yet to be seen, as they are off to a bad start. Why would a body of civilians, who are to investigate misconduct complaints, so eager to obtain 18, yes 18 years of documentation which the majority have no relevance to their position. What information, from 18 years of records would be of value to current police misconduct cases? Looking for patterns of bad behavior can be ascertained quickly, not over 18 years. Calls for service, police officer narratives on their reports, and arrests made for the last 18 years isn't something that is the norm for a board only looking for today's incidents, no, this smells of the ghost of Nashville's past.
The following is the records request to the Metro Nashville Police Dept: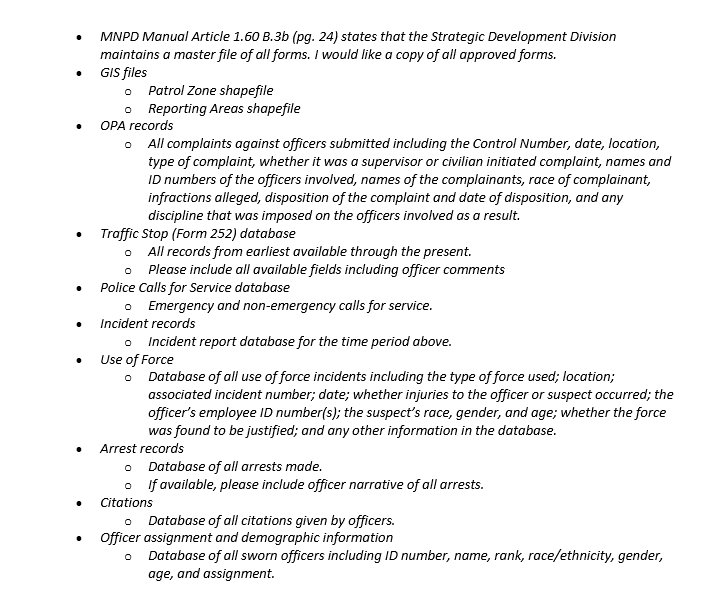 The executive director of this board, William Carlos Weeden appears to have more in mind then just looking into misconduct. His background, while impressive, also states he is "Fiercely committed to civil rights and social justice, Mr. Weeden leads the law practice bearing his name with a clear vision influenced by these principles".
What attracted Mr. Weeden to a city like Nashville anyways? Being from Chicago, it seems his services would be booming , as the number of mass shootings on weekends there is astronomical. Ah, but being a social justice warrior, Chicago is about black on black crime, which does not fit today's liberal narrative. But white officers shooting black subjects does.
Nashvillians have had a rough few months with the run off election resulting in a new Mayor, and crime on the rise on its city streets, but they have questions that should be answered. Why is this oversight board looking for 18 year old information, and why are they demanding to be part of active investigations? If Nashville is so important to Mr. Weeden, (or on social media William Carlos) why does it appear he lives in Mt.Juliet, in Wilson County? New Mayoral elect John Cooper is going to have his hands full with this board, and so is Chief Steve Anderson. One can only hope they will nip these ridiculous demands in the bud, before they grow out of control.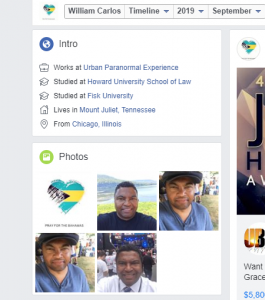 On a side note, it is interesting Mr. Weeden seems to be an investigator of different sorts too.
Yes, he appears to be a ghost hunter.