Clarification: Please be advised Yahweh Yahweh is a female Commissioner from Gibson County TN, who is running for State Senate. The picture of the male in the white turban is the head of her affiliated organizations, whose name is Yahweh ben Yahweh.
As we approach critical elections this year, it is more important than ever to truly understand who candidates are. First remember, if things sound to good to be true, they are. That may be the case in Gibson County TN where a woman name Yahweh Yahweh is running for State Senate. While never claiming to be of any particular faith, her attributes listed on her Commissioner campaign page list giving back to her community, and volunteering to help those who can't help themselves. Wonderful.
Dig a little deeper and you will find a connection to a disturbing, appearing to be religious, almost cultish order called The Order of the Celestial Lodge. Led by a "King" named Yahweh ben Yahweh, who believes "I AM THE GRAND MASTER OF THE CELESTIAL LODGE, ARCHITECT OF THE UNIVERSE, THE BLESSED AND ONLY POTENTATE, I AM THE FOUNDER OF THE PEACE MAKERS, I AM THE FOUNDER OF THE CHILDREN OF LIGHT, I'M HERE TO RE-ESTABLISH, I'M HERE TO ESTABLISH THE WILL OF MY FATHER YAHWEH, IN EARTH AS IT IS IN HEAVEN, IN THE EMBODIMENT AND THE NAME OF THE HOLY GHOST YOU, "YAHWEH BEN YAHWEH BEN YAHWEH, YAHWEH BEN YAHWEH BAHT YAHWEH"
Strange.
As usual with groups that don't want attention, they seek to confuse, often having several websites that link to nowhere, and alter their organization using varying names. This seems to fit this group. Ms. Yahweh Yahweh of Tennessee, a current commissioner for Gibson County is seeking election for a State Senate position claims an affiliation to The Order of the Celestial Lodge, which holds the same address as The Celestial Federation of YAHWEH (CFY).
On Ms. Yahweh's LinkedIn page (a professional network site) she also claims to be Supreme Elder Queen Mother Commissioner at The Kingdom of YAHWEH
The Kingdom of YAHWEH, another cultish group with a political ideology, also adores the King, Yahweh ben Yahweh. Keep in mind, Ms. Yahweh, the Commissioner from Gibson County TN professes to help her community and the poor,while her affiliation boasts of their "Royal Crest":
Again, Ms. Gibson claims no stake in any religion, but does ascribe to The Order of the Celestial Lodge, (aka the Celestial Federation of Yahweh) and the Kingdom of Yahweh. Without researching, many may assume these are religious organizations, therefore believe she would be a good Senator based on her good deeds to her community.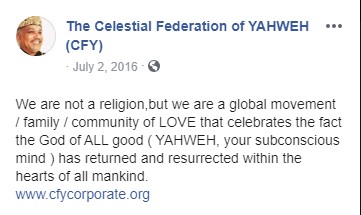 Using verse after verse from the Bible, with tones of Judaism, it could be misconstrued Ms. Yahweh is Christian or Jewish, however neither seems to be true. What we do know is they worship a King who resides in many cities, from Beverly Hills to Miami. They are not a religion, but are members of the UN, and consider themselves a movement.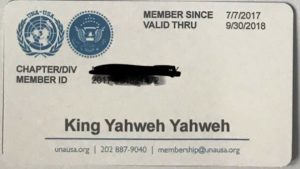 The bottom line, while Ms. Yahweh Yahweh may contribute to her community in a positive way, what are her true intentions? To many, her religious beliefs, or lack of, may not matter, but in today's political climate Tennesseans need to fully understand what their candidates stand for. Research her affiliations for yourself and you be the judge.
https://www.thekingdomofyahweh.org/about
https://www.facebook.com/pg/CelestialFederationofYahweh/about/?ref=page_internal
https://www.facebook.com/pg/yahwehtn/about/?ref=page_internal