Dubbed "Z" during her successful campaign for Nashville Metro Council, Zulfat Suara now admits she is a full fledged socialist and wants Bernie Sanders to be President.
From the comfort of her new $650,000 home, Zocialist Suara is working as one of Bernie Sanders' three Tennessee campaign co-chairs. The other two, Emily Benedict and Delishia Porterfield are not surprisingly, Metro Nashville Council members.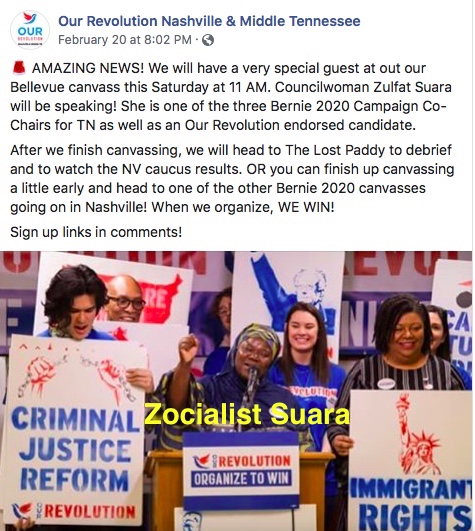 From 2012 until right before running for an at-large seat on the Metro Nashville Council, Zocialist Suara led the TN American Muslim Advisory Council (AMAC). Under her leadership, AMAC joined forces with Linda Sarsour, one of the most vocal anti-Semites in the U.S., featuring Sarsour at different AMAC events.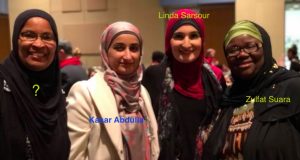 Sarsour is now "Bernie Sanders's Anti-Semitic Surrogate"
This seems to be a pattern for Zocialist Suara who admires vocal Jew-haters U.S. Congressional members Ilhan Omar and Rashida Tlaib.
Zocialist Suara was so inspired by the newly elected Jew-haters, that during her speech at the 2019 Nashville Women's March, she announced her own candidacy for an at-large seat on the Metro Nashville City Council. Best guess is that she had to run at-large because to was all about "My Muslim Vote."
By the time Zocialist Suara made that announcement she already knew Sarsour who co-founded The Women's March with Tamika Mallory. The Nashville Women's March is a named affiliate of Sarsour's Women's March.
Sarsour was the one who instigated injecting the Jew-hating anti-Israel BDS campaign into The Women's March. Granted, no one should have been surprised given that she and her co-leader Mallory are supporters of Nation of Islam leader Louis Farrakhan, a notorious anti-Semite who has praised Hitler and described Jews as "satanic."
Hitler was a socialist liberal and led the National Socialist German Workers' Party, a fact neither Bernie's girls nor Bernie himself wants to own. What they try to do instead, is deflect by claiming their's is a "Democratic" form of socialism.
Only in their own minds and only using their own twisted semantics since there is no such thing as "Democratic Socialism."
Along with Linda Sarsour and Zocialist Suara, Ilhan Omar and Rashida Tlaib have endorsed Sanders for President.
Sarsour, Omar and Tlaib have freely and publicly given voice to their anti-Zionism anti-Semitism.
Zionism is the movement that helped to establish the State of Israel. Martin Luther King Jr., often cited by progressives as a symbol for social justice, understood that anti-Zionism is anti-Semitism. As he said, "When people criticize Zionist, they mean Jews. You are talking anti-Semitism."
Sanders' has made a full display of his own Jewish self-hatred. He has hired two senior advisers with documented anti-Israel backgrounds for which they "were censured in the past for their deeply anti-Semitic, Judeophobic and anti-Israel views."
"Republican Jewish Coalition spokesperson Neil Strauss said the hires illustrate a bigger issue.
'We see this time and again with progressive Democrats, anti-Semitism and anti-Zionism are OK in their ranks.'"
It's become such a lightening rod in the Sanders campaign that a moderate pro-Israel Democratic Super PAC is running ads against him.
(It almost feels like a throw-back to the Grand Mufti of Jerusalem, Haj Amin al-Husseini's alliance with Hitler).
Regardless of whether they call themselves "progressives" or "socialists" radical candidates like Zocialist Suara, Tlaib and Omar are celebrated and endorsed by "Our Revolution" (OR), which functions as, the 501(c)(4) arm of Bernie Sanders' campaign.
Not to be left out, TIRRCVotes (TN Immigrant & Refugee Rights Coalition) endorsed its former board member and activist Zocialist Suara for the Metro Council.
OR has a Tennessee state chapter and predictably, a Nashville and Middle TN chapter.
Coincidentally, Bernie Sanders and Leon Trotsky, a Soviet Marxist, both authored a book titled "Our Revolution."
"In 1980, Sanders served as an elector for the Socialist Workers Party, which was founded on the principles of Leon Trotsky. According to the New York Times, that party called for abolishing the military budget. It also called for "solidarity" with the revolutionary regimes in Iran, Nicaragua, Grenada, and Cuba; this was in the middle of the Iranian hostage crisis."
"Our Revolution" wants Bernie Sanders for President and wants to put radicals in every elected office they can steal. James Zogby, another anti-Zionist, is on the board of OR.
Interestingly, Zogby served with Jerusalem Fund founder Hisham Sharabi on the board of the renamed American Committee on Jerusalem (ACJ).
Samar Ali's father Subhi Ali served alongside Sharabi at the (anti-Zionist-pro-BDS) Jerusalem Fund and has led the organization's board since 2005. Samar served as Zocialist Suara's treasurer in her Metro Council campaign.
(Keep in mind Bill Hagerty's close connection to Samar when that primary election comes around).