At least two deaths have occurred in the Dover Tennessee compound of the Muslims of America called Islamville. A young man, in his thirties, and a 14 yr old boy.
Muslims under the direction of their leader, Sheik Mubarak Gilani from Lahore Pakistan, state they are "a premier institute for the study of Holy Qur'an, Islamic traditions and Sufic Sciences." Keep in mind, this is the same Sheikh Gilani that ordered the beheading of Wall Street Journal reporter Daniel Pearl, and the same terrorist group identified by the FBI

The ideology reigning over these Muslim of America compounds is based on the "El Gilani Methodology", which boasts is responsible for curing many mental and "incurable" diseases. "The El Gillani Methodology (EGM), is proven to cure so-called incurable mental and physical disorders through the use of a standardized and scientifically tested system that heals disease of the mind, body and soul by utilizing selected portions of the Holy Quran and other supplications, as well as use of the projection of the visual image of the personal names of Almighty God, Allah, and His Holy Last Messenger, Muhammad, peace be upon him."
Many residents of "Islamville" in Dover TN have had, or continue to use Roods Creek RD in Hancock NY, "Islamberg" aka The International Quranic Open University as an address. This is the "campus" on higher learning of the EGM.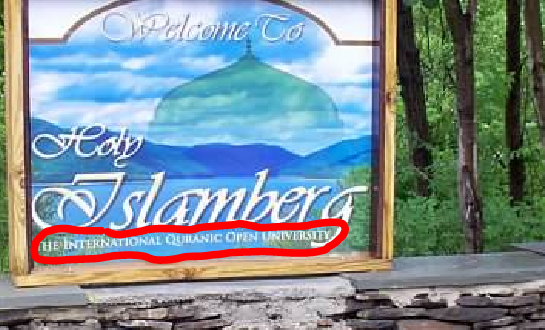 This is Jamil Smith, a resident of Islamberg, who claims to be a doctor who has witnessed the power of this method, curing a young man who was suffering from insomnia, and "sins".
Now, understanding deaths are an everyday occurrence, including young people, the question might be asked what caused the death of a 14 yr old boy at Vanderbilt Childrens Hospital, who lived in Islamville, and why was his body transferred to another Muslim of America compound in South Carolina.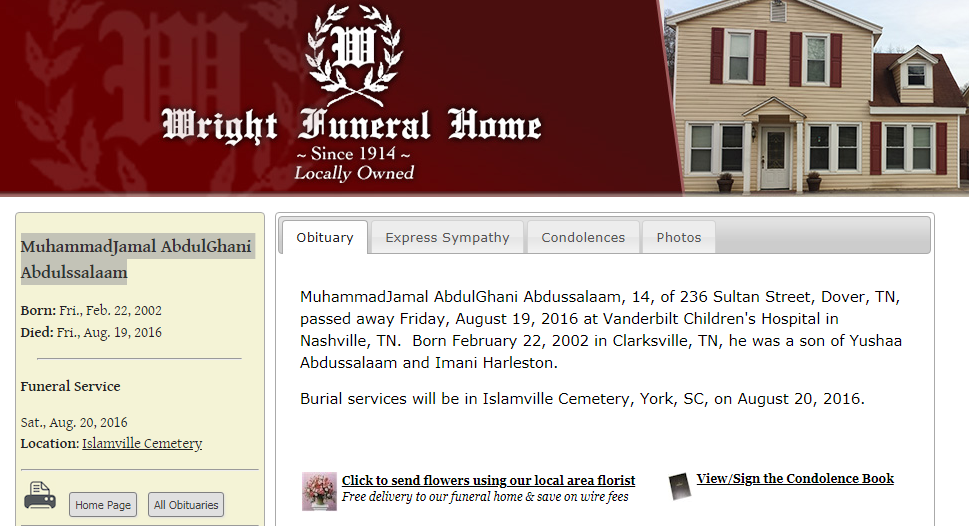 A check with the Davidson County Clerk was unable to provide a death certificate. It is feasible the boy died from illness, but questions remain whether the ideology practiced in the compound he resided, was first used to try and cure him.
Looking back to last year, a raid on a compound In Mew Mexico of a similar type compound, 5 Muslims were charged with endangering the welfare of children, and Sirhajj Wahajj Jr, was charged with the death of his 3 year old son who instead of receiving his medications for seizures was subjected to "rituals", very similar to that of the El-Gilani method.
Are the residents of Islamville in Dover TN entrenched in the same Sufi mysticism other compounds are? Are deaths occurring to residents due to illnesses or the attempt to cure using the "El-Gilani" method?
Finally, these compounds exist under the guise of "religion", but in reality they exist because we are afraid. Afraid of being sued, and afraid of being labeled. What we have witnessed in America, is once you are stamped with words like Islamophobe, bigot, racist or hater, you can lose your job, your business, your friends, and family. Islamists in America have learned the power of words, and are eager to label anyone that speaks out against , or tells the truth about them.
Perhaps these deaths were natural, but given the background and ideology of those that live on these compounds, maybe it is time to put fear and political correctness behind, and call for investigations.
I know..good luck with that .