Exchanging sexually demeaning text messages and the scandal it created was enough for Glen Casada to resign as Speaker of the House. But it was not enough for District 63 to reject him as their representative, choosing instead to re-elect him in 2020 to serve for two more years.
Sparing his district from further humiliation, but with stunning hubris, Casada, whose home was searched by the FBI for suspected ties to "shadowy" handling of campaign money, ran for Williamson County Clerk in the most recent primary. County voters handed him a resounding defeat.
Isn't it time for voters in District 63 to clean up their act and elect someone who won't continue to make Tennessee a national joke (watch video at end of post), and who demonstrates prudence when it comes to money?
District 63 candidate Laurie Cardoza Moore has put up a highly stylized campaign website that looks good and sounds good but ….?
In contrast, Republican candidate Jake McCalmon's campaign website is straightforward, reflecting a no nonsense grassroots, self-made working man who has earned his money instead of living off donated funds like Moore does from her 501(c)3 Proclaiming Justice to The Nations (PJTN).
Moore describes herself as a homeschool mom but talks a lot about what she believes is going on in the state's public schools. In contrast, McCalmon has three kids who right now actually attend his county's public schools where he has a front row seat and a very personal investment.
Given the legacy of Casada which doesn't appear to be over, District 63 voters should pay scrupulous attention to any money-handling information related to their next representative. For example, Moore's non-profit organization PJTN 990's raise reasonable questions.
The vast majority of money accumulated by Moore comes from donors which is then used by PJTN to employ Moore, her husband and her children.
Nashville Scene's Betsy Phillips has also noticed Moore's handling of her organization's finances. While her 501(c)(3) shouldn't show a "profit", it has, however, proven more than profitable for Moore, and her family members. As Phillips notes, of the nine officers listed in the 2019 tax filing, Moore is the sole officer being paid, while "[t]he person who prepared the tax return and who is one of these officers was paid no salary."
In time for the 2020 tax year the PJTN Treasurer received a $60,000 salary.
The 2019 tax filing shows Moore's salary at $145,120, despite running a balance sheet of liabilities outstripping revenue. The following year Moore took approximately 12% of donated funds and increased her salary to $160,000, continuing to run a balance sheet of liabilities exceeding revenue.
Daughters Christina and Jessica have been paid as "contract labor" since 2011, while daughter Josephine moved from contract labor to a $47,876 salary beginning in 2019.
Moore's husband, owner of MP Films, Inc., has likewise profited from the PJTN business. Tax filings between 2011 and 2020, show that MP Films, Inc. was paid over $700,000 for "production expenses". But according to the Tennessee Secretary of State's website, MP Films, Inc. was dissolved in 2009.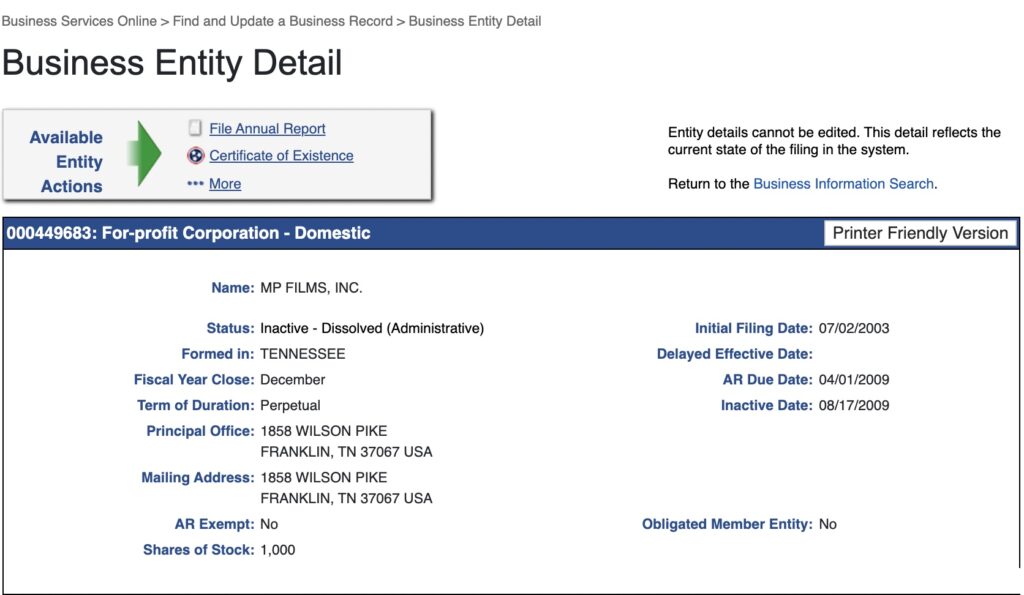 In 2020, Moore raised $1,360,051- almost all from donors. She paid herself $160,000, paid her husband's business $97,301 and paid a total of $63,824 to employ three of her kids. In addition, she annually claims an "occupancy expense" which has been as high as $40,000 but a measly $36,484 in 2020. Phillips notes in her piece that Moore is using her "own nonprofit [to] pay[s] her this money to keep offices in a property she owns, like rent for having her own home office." In PJTN's early days, donor money also paid $15,445 in "rent and utilities" to Moore's husband Stan who served as an officer of the organization.
In just one year, Moore's "business model" paid out $421,433 to benefit her family. That amounts to 31% of donated funds going into the pockets of the Moore clan.
Another very serious question District 63 voters should address with Moore is the $150,000 loan made to its board chairman Stanley Tate. Despite Tate's personal wealth, a sizable balance of the loan has not been repaid. According to Tennessee law, 48-58-303, non-profit corporations like PJTN are not supposed to "lend money to or guarantee the obligation of a director or officer of the corporation".
Scattered through PJTN's tax filings are amounts claimed for lobbying expenses, a chunk of which are not subject to tax. Moore's 2017 claimed lobbying expenses of $86,000 presumably included her failed performance in front of a Tennessee House subcommittee. Despite lacking a credible factual foundation, Moore insisted that the University of Tennessee Knoxville campus was a hotbed of antisemitism driven by the campus' Hamas related student groups. Three students from UTK, two Jewish and one Muslim, told legislators a completely different story sending Moore and her bill down in flames.
Moore's stated positions on the issues posed on her campaign website are pretty standard fare from members in the General Assembly. Even her positions on Israel and antisemitism which have fueled her fundraising have long been the meat and potatoes of Tennessee Jewish Federations, the state's Jewish community's leader organization.
This year, leaders from the Jewish community worked with state legislators, many of whom are members of Christians United for Israel (CUFI), the largest pro-Israel grassroots organization in the U.S., to pass two landmark bills; a pro-Israel bill and another pushing back on antisemitism. Both bills will help educate all Tennesseans about antisemitism. Nor are Moore's "ideas" about law enforcement training in Israel new or unique – it's already being done and it's the same for increased trade relations with Israel.
Plenty of free money in "production expenses" and a home-based business has made it easy for Moore to promote herself on social media and youtube. After all, that's what brings in the dollars. If elevated to public office though, will she manipulate a new promotional perch from which to financially enrich herself and her family?
After the Glen Casada fiasco, District 63 has an opportunity to rehabilitate itself by sending someone whose representative duties won't be inextricably tied to their organizational fundraising and nepotism that provides jobs for her family.