This year, the "Banned Books Week" political campaign pushed by the three-tier library associations – the American Library Association (ALA), the American Association of School Librarians (AASL) and the TN Association of School Librarians (TASL), is scheduled to begin on October 1, 2023.

TASL's website continues to include Banned Books Week in its political advocacy menu which showcases school library "banned book" displays.
The AASL has expanded the week's advocacy to include "Banned Websites Awareness Day" complete with resources to support the political agenda of school librarians and AASL state chapters like TASL.
The "Teach Truth" political campaign promoted by TASL
Protesting against state Critical Race Theory (CRT) legislation, including Tennessee's, several organizations launched the "Teach Truth" campaign:
Lawmakers in at least 15 states are attempting to pass legislation that would require teachers to lie to students about the role of racism, sexism, heterosexism, and oppression throughout U.S. history. In response, educators across the United States are signing a pledge to teach the truth.
The "Teach Truth Pledge" campaign was launched in 2021, led by the Zinn Education Project. The "pledge" which educators across the country were asked to sign states: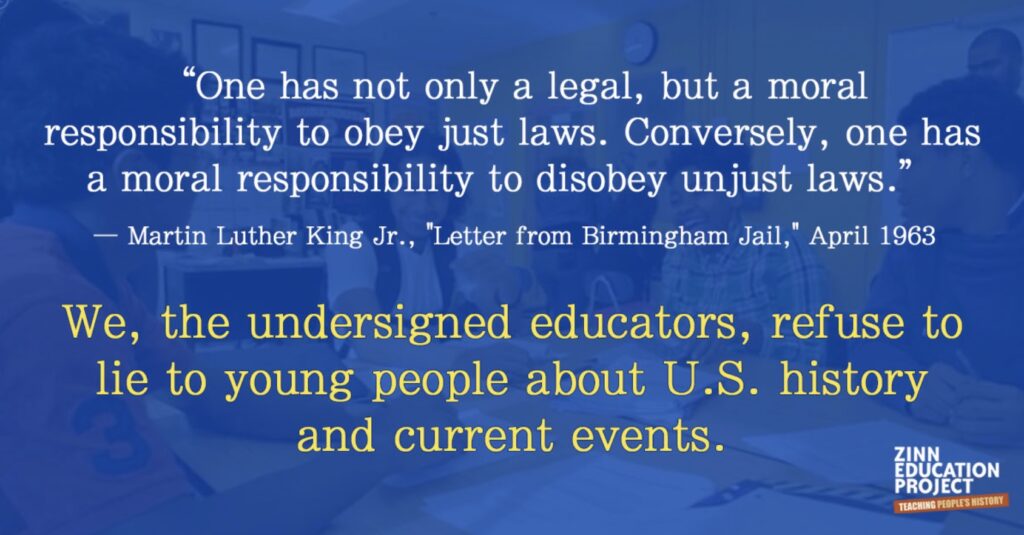 Along with signing the pledge, A "Teach Truth" day of action was planned in cities across the U.S. including one in Memphis.
The "Teach the Truth" political campaign was organized by The Zinn Education Project (which is coordinated by Rethinking Schools and Teaching for Change), Black Lives Matter at School, and the African American Policy Forum.
The Zinn Education Project is named after Howard Zinn, author of A People's History of the United States, a book which is often included on school reading lists and which has been criticized for it's anti-American bias. Bill of Rights Institute President David Bobb, described Zinn as a "Marxist-inspired historian"… whose "arguments tend to divide, not unite, embitter rather than heal." Sam Wineberg, a Stanford University professor whose research looks at how history is taught, learned and why students decide to believe what they believe, has also critiqued Zinn's history book.
Regardless, both critics and admirers of Zinn's work agree that his People's History book is written from a dedicated bias.
In keeping with Howard Zinn's alternative narrative of U.S. history, the Zinn Education Project provides materials that teachers can use to teach from a social justice perspective, resources for progressive classroom lessons and progressive book reviews, a clearinghouse for political activity as it relates to teachers and classroom instruction, and conferences in furtherance of the Project's goals. All materials are based on Zinn's viewpoint of U.S. history as offered in his book.
Rethinking Schools, Teaching for Change, Black Lives Matter at School and the African American Policy Forum were also part of the "Teach Truth" political campaign.
Rethinking Schools describes itself as "the preeminent publisher of social justice education materials in the United States". Rethinking Schools met with Tennessee teachers to discuss how these teachers interpreted Tennessee's CRT legislation and published in a piece titled The Chilling Effects of So-Called Critical Race Theory Bans.
Teaching for Change says it is about "building social justice starting in the classroom".
Black Lives Matter at School organizes for "racial justice in education" which, according to its website, promotes "radical education policy resources". This summer high school students were offered a virtual "Summer Freedom School", described as "an alternative fugitive space for learning. A space where high school students can gain access to Black scholars and leaders and have a chance to unlearn the lies and re-learn the truths of Black history."
A Black Lives Matter at School founding member who teaches high school students in Seattle says, "you can't understand our country without understanding racism and its intersections with sexism and heterosexism".
While it is not clear who produces materials disseminated or promoted by Black Lives Matter at School organizers, a staff writer at The Atlantic raises the question about the materials – or as he puts it, "the line between education and indoctrination". Not all Black parents are on board with the curriculum offered by Black Lives Matter at School.
The African American Policy Forum's goal is to "dismantle structural inequality" using an intersectional framework to tie together "race, gender, class, and the array of barriers that disempower those who are marginalized in society".
TASL and the "Teach Truth" book list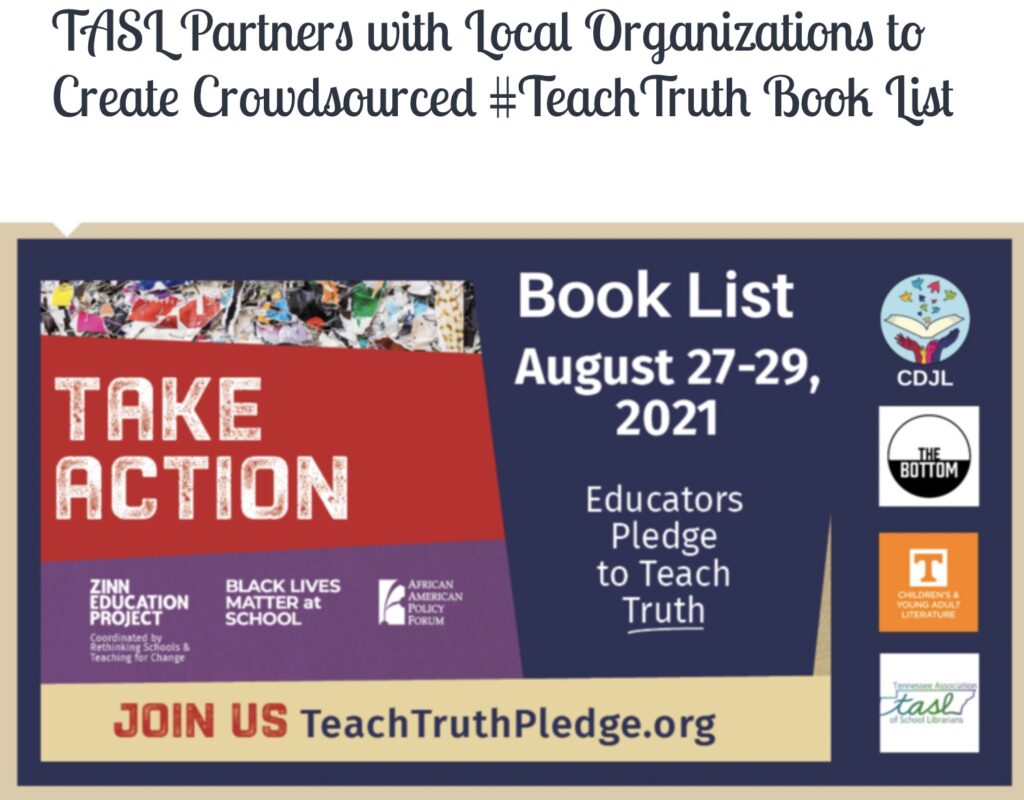 TASL did its part to push the "Teach Truth" political campaign by partnering with the following groups and promoting a "Teach Truth Book List":
The Bottom Knox

– which among other things, hosts a Black-affirming book shop
TASL's Teach Truth book list includes selections for elementary, middle and high school students as well as adult readers. An Ibram X Kendi selection is included for each level and group of readers. Kendi is considered one of the most vocal proponents of the elements that comprise critical race theory. Author of How to Be an Antiracist, doesn't appear to believe that white people cannot not be racist. In 2020, he wrote in a tweet that, "[i]t is a belief too many White people have: if they have or adopt a child of color, then they can't be racist."