American law enforcement  officers are being killed everyday, yet the only topic being discussed nationally is prison reform, and studies on how police act, or react, within the communities they serve.  A prime example of this is in Nashville Tennessee where police have been under the microscope after a  2016 report titled "Driving While Black" was released by a group called Gideons Army. 
That report, and the recent shootings of 2 black men, by white police officers led the black community to demand a community oversight board be formed.  In addition to that, Nashville Mayor David Briley, decided to go forward with a planned study by the Policing Project, from the New York University School of Law, whose findings were just released. 
Here at Dailyrollcall we have  written extensively on the formation of a community oversight board, specifically in Nashville Tennessee, which voters overwhelmingly decided was needed.  Add that to the report published from the Policing Project and you should see  a clear picture..the left wants to eventually dismantle all forms of law enforcement, to be replaced by social justice programs. It isn't the criminals fault, it's the police. 
Starting with the Gideons Army report, which was endorsed by anti police groups such as Black Lives Matter, (BLM) and  Standing Up for Racial Justice (SURJ), the reports sole purpose was to show how many black people have been stopped by police in black neighborhoods, for what they say is discrimination, despite many of those interviewed for the report, stating they had, in fact, committed the offense for which they were pulled over for. 
While "Driving While Black" is filled with 213 pages of redundant charts and statistics, the meat of the report starts at page 90, with the actual people who were stopped, and their versions of why they were stopped.
Ronald Hayes of East Nashville recounts his story to the interviewer by stating this:

Jackie Sims admits to being arrested because she didn't feel like going to court in NC, where eventually her license to drive was suspended.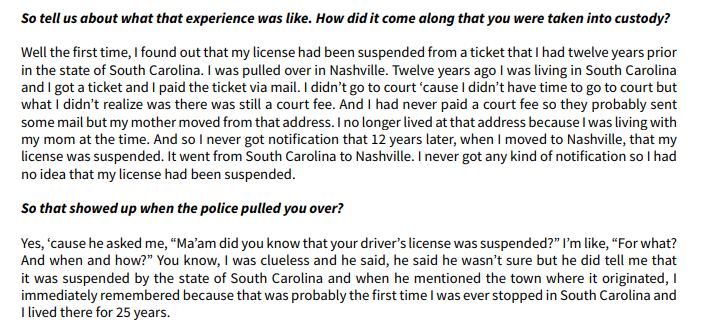 So far, neither interviewees were negative about their experience with the police.
Nella Frierson, did in fact have a negative experience with police on two occasions, as she was cited for not stopping at a stop sign, but claims she beat that ticket. She further goes on:

There are several more interviews, from many damming the police , to many stating the police weren't all that bad. Yes, there are bad police officers, but the report seems to focus on how these members of the community were treated when being pulled over by police. Read the entire report here: https://drivingwhileblacknashville.wordpress.com/
The Policing project report was based on the data collected by the Gideons Army , and finds that racial disparity does not equate with racial discrimination. Whats interesting though, is the assembly of experts, all from liberal universities, called in to study the actions of police…but not the actions of those being stopped, or the criminals which are never the subject of findings. 
The policing project released the following recommendations to the Metro Nashville Police Dept/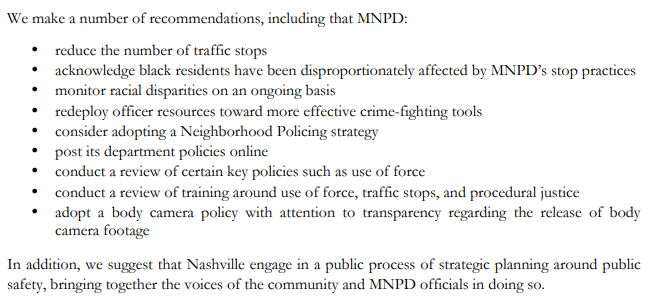 These findings speak volumes as to the reality of those writing them. Diminishing the role of law enforcement, and enforcing a narrative that police are the  problem is dangerous and typical of  those who don't deal with the workings of inner city crime. 
On a final note, it is important to see that it was recommended the community, and police work together as a matter of public safety. Perhaps the Nashville community should take that advice since the newly formed community oversight board specifically refuses to allow law enforcement be a part of it. 
This isn't about discrimination, or disparity, it's all about social justice and the dismantling of law enforcement as we know it.