This week's guest on "Unmuted with Marsha" is Turkish-born NBA basketball player Enes Kanter who became a U.S. citizen last year and is reported to be dating a Rockefeller.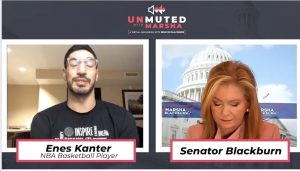 Marsha begins by gushing over Enes during her introduction – "he has been such a strong advocate for "human rights, for democracy, for justice…."
High praise from the alleged conservative Senator from Tennessee, for a foreign-born NBA basketball player who favors "taking a knee" during our national anthem and who spoke at a Black Lives Matter protest in Boston.
Marsha expresses extreme concern about the "socialistic control" being exerted by Turkey's president Erdogan and is overly impressed by Kanter using his pseudo-celebrity status to speak out against it. She's so impressed with this basketball player that she wants to know what he thinks about U.S. sanctions put on Turkey for purchasing a Russian air defense system. Kanter appears to be against the sanctions because he believes direct action against Erdogan is needed.
Of course, any and all conversations are structured around Marsha being able to talk about herself, unless of course it's about explaining her vote to certify the "tainted election results" on January 6th.
Appearing to read from her script, Marsha talks about a resolution she co-sponsored "condemning Turkey's crack-down on free speech and dissent" and Erdogen's pattern of "using any pretext to crush minority voices and inflict fear."
Anyone else think Marsha could have used this time to talk about the crushing of conservative voices that began during the Obama administration? What about the Biden administration, abetted by the corrupt media and the likes of Amazon, Facebook, Google and Twitter dismantling the remaining remnants of right-wing opposition voices?
Hyper-focused on the "socialistic control" she attributes to Turkey, Marsha congratulates Kanter for using his NBA platform to address free speech abuses in Turkey, after he recounts the retaliation taken on his family still living there:
"your courage is really quite remarkable and you know, when you talk about authoritarian regimes and socialistic control and you hear first-hand from someone who is living through this you see the dangers that come with people being forced to give their freedoms, whether its their freedom of speech or religion, their right to protest, their right to make decisions for themselves, the right to achieve their hopes and dreams and goals – your sister going to medical school, your brother wanting to be a basketball player in the NBA, you see how important it is that we continue to fight every day for freedom and justice and liberty and equality under the law and to have that rule of law that is going to be a constant for us, an absolute constant for us knowing that it is going to be fairly applied to each and everyone…."
A better choice for an "Unmuted" guest at this moment in time and one Marsha's base relates to, is the Parler CEO John Matze. Parler quickly became the conservative's alternative to Twitter, especially after President Trump was shut down by Twitter. Aside from being gang-raped by the left's big-tech, Matze was forced into hiding with his family due to death threats and security breaches. As far as we can tell, Marsha's basketball player is living the good lefty life in the U.S. while making his family in Turkey shoulder the consequences of his advocacy.
On January 6th, Marsha quickly condemned the rioters. Since she keeps telling us that she's all for freedom and free speech, why didn't she stand up for the peacefully assembled rally goers, some from Tennessee among them, who were asserting their First Amendment rights?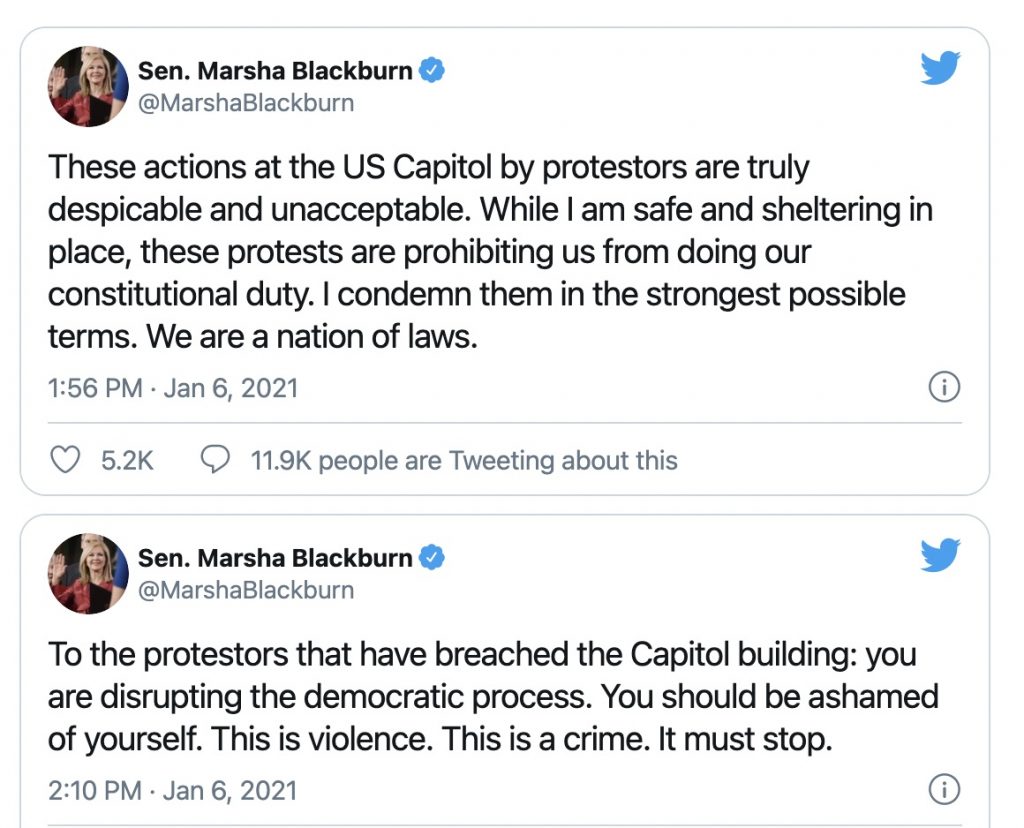 Marsha threw the peaceful rally-goers under the bus along with every legal and legitimate voter in Tennessee and across the U.S., contradicting her own explicit "Fact Sheet on Electoral Vote Count." The only explanation she has offered to date is the obtuse – "changed circumstances." What is that supposed to mean?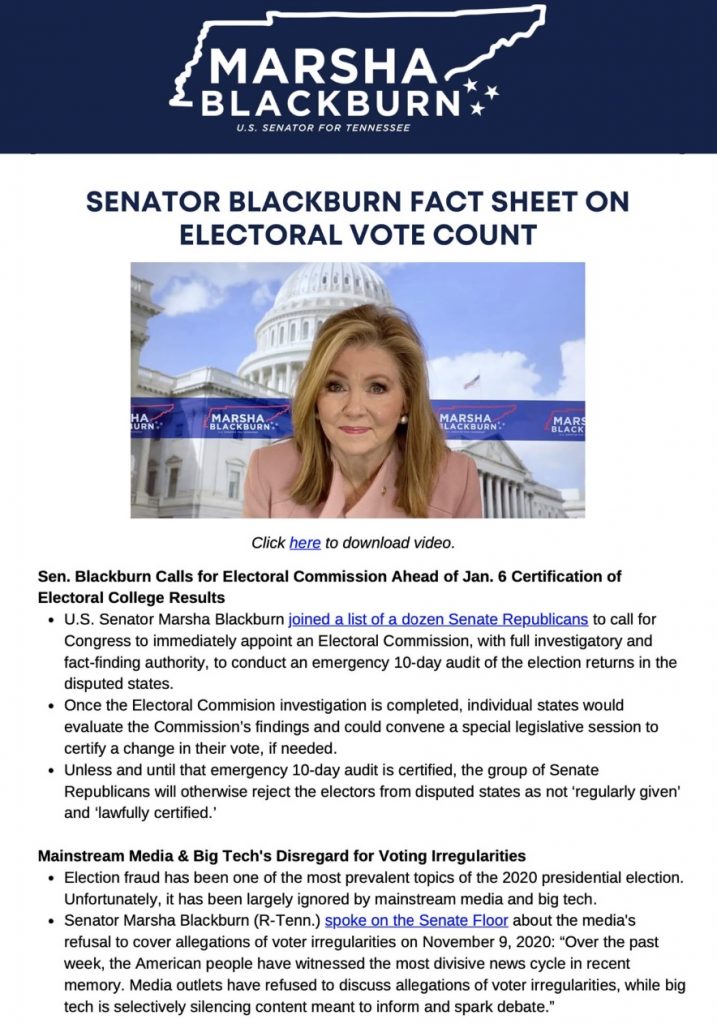 Kanter closes his interview with Marsha by encouraging the Turkish people to step up because "Turkey could be the bridge of Islam and the West."
Marsha needs to be muted and primaried